Welcome to My Mosaic Review!
Published on

19 April 2008

Written by Melissa
After trying to create my own photo mosaic and trying many online services, I decided to put together a review site to help remove some of the confusion in trying to create custom photo mosaics. I could not find any valuable reviews online, then again, I guess this is not the type of product you would expect to find on Amazon.com or any other large online superstore. Hopefully you find this review site helpful in creating your own custom mosaic.
A Day in the Life
Published on

22 November 2013

Written by Melissa
November is American Diabetes Month and I've been looking for a unique way to honor my late grandmother who suffered from type 2 diabetes. What I found was that the American Diabetes Association has collaborated with Picture Mosaics to create an online photo mosaic dedicated to those effected by diabetes. As you know, I love photo mosaics, so I was immediately drawn in by this concept.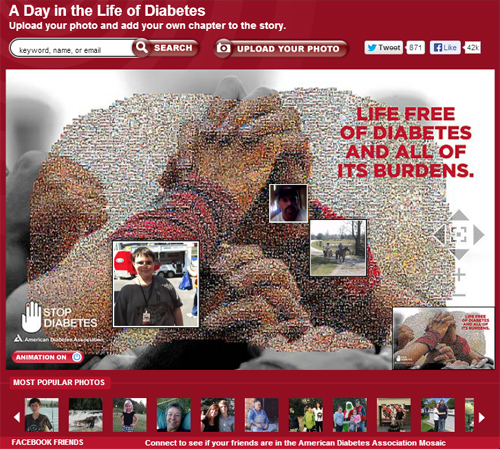 Mosaic of Galactic Proportions
Published on

03 October 2013

Written by Melissa
When I was very young, the first piece of art I was introduced to was Van Gogh's Starry Night. I was truly moved by it. The sweeping, textured winds, and the enormous stars were things that I, as a child, could easily relate to. So, when I found a photo mosaic of Starry Night with actual Hubble telescope photos as the cells, I was again re-absorbed into the piece.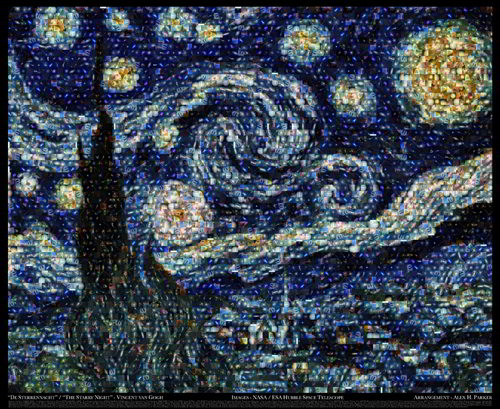 Fantastic Plastic Mosaic
Published on

11 September 2013

Written by Melissa
While on another late night web hunt for unique mosaics, I found a project that really caught my eye. Chicago artist Mary Ellen Croteau has collected enough plastic bottle caps to arrange them into an 8'x7' mosaic self portrait. Except where the whiteboard was showing through, no paint was used during the mosaic process, nor was the source image superimposed on the backing board - we're looking at a true mosaic here!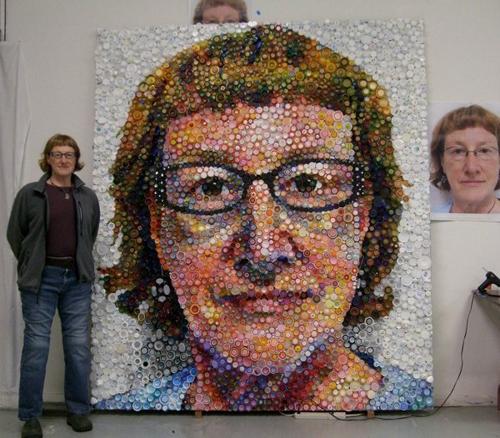 A Nationwide Photo Mosaic
Published on

08 July 2013

Written by Melissa
*UPDATED 9/3/2013*
I was catching up with a friend from Montreal recently who told me about an interesting festival that was approaching. Apparently, throughout the weekend of August 16th-18th, Canadian Living Magazine is inviting Canadians nationwide to submit their photos to an online, streaming photo mosaic for their 2013 PhotoFest! Right away, I went to the website to explore as much as I could, and to my surprise I found out that this streaming mosaic concept was provided by Picture Mosaics, whom I've written about in the past.
 As soon as I woke up this morning, I went to the PhotoFest mosaic site and watched for a few minutes as photos were added to the mosaic in real-time, right before my eyes. I was amazed by how smoothly they each found their perfect place within the mosaic to create the bigger picture. I was even able to search by using a keyword, email, or hashtag and share individual photos through Facebook, Twitter, or Pinterest. And, one of the most exciting parts was the chance to win a prize if your photo lands on a cell with a maple leaf! I highly recommend giving this mosaic a visit.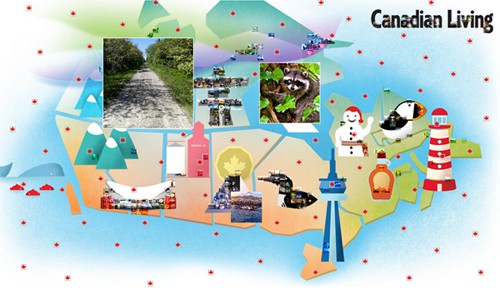 UPDATE:
Now that the Canadian Living 2013 PhotoFest has come to a close, the beautiful finished photo mosaic is still accessible online. Check it out after the jump!
Bringing folks together with an interactive mosaic
Published on

08 July 2013

Written by Rob
I was recently at an event in Boston, MA hosted by United Way, and I saw something that really caught my eye and was perfect for this site. I noticed some sort of moving photo mosaic on a large, HD monitor with a green screen next to it. Upon further inspection, I found that you could have your photo taken on the spot and watch as your photo was added to the mosaic on the monitor. I wish I could say I was surprised when I approached the mosaic attendants only to find out that this real-time interactive mosaic was created and hosted by our friends at Picture Mosaics.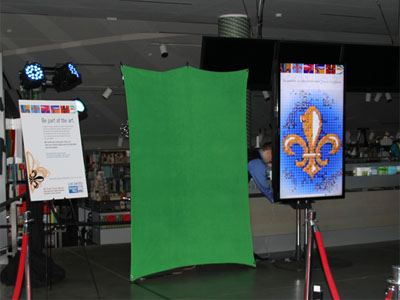 Read more: Bringing folks together with an interactive mosaic
Fantastic Faux-saic
Published on

26 February 2013

Written by Rob
Have you ever looked at a photo or a piece of art for what feels like an eternity?  Your eyes continue to scan over it, there's something about it keeping you fixated, but your mind just can't seem to grasp its mystery?  In my web-travels, I stumbled upon an article on PetaPixel featuring the work of Bela Borsodi, a New York-based photographer who has particularly framed this photo to yield very interesting results!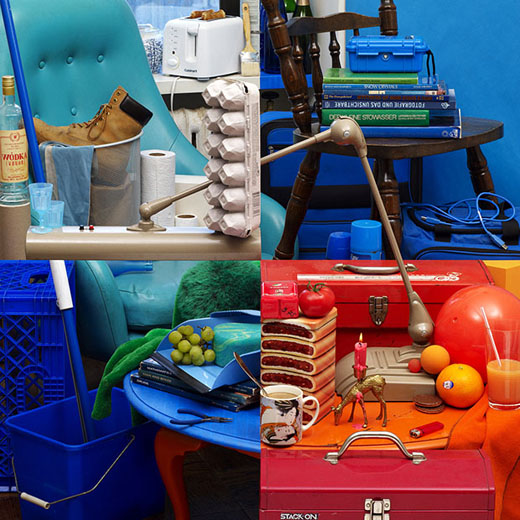 Not exactly a photo mosaic per se, but an interesting experiment in a similar vein.  I won't spoil the secret for you, reveal the mystery for yourself by watching the video!!
Mona Lisa Masterpiece Mosaic
Published on

26 February 2013

Written by Elizabeth
Once in a while something comes along and simply makes you speechless. If you have 2 minutes to spare, this is worth a quick watch.
275 Millisecond Mosaic
Published on

26 February 2013

Written by Elizabeth
When nothing is on TV and I have exhausted my channel surfing abilities, I sometimes turn to YouTube and web my way deeper and deeper from one video to the next. Keeping on the theme of mosaics, I happened to stumble upon a video from one of my favorite shows: Mythbusters. It is from a few years back, but nevertheless still very cool!
In a nutshell, hosts, Adam Savage and Jamie Hyneman, try to graphically demonstrate the difference between CPU and GPU by creating a paintball mosaic of Mona Lisa (I am still trying figure out the metaphor). The mosaic was painted in a very impressive 275 milliseconds using a one-of-a-kind 1100 barrel paint ball gun.
Be sure to give it a quick watch. And most importantly, be sure not to blink - you'll miss the whole thing :)
Guinness Book of World Records Photo Mosaic!
Published on

29 November 2012

Written by Melissa
Since I wear glasses on a daily basis, I am definitely someone who would be lost in the world without my glasses! I've been a Transitions girl for 5 years now and I would never turn back! Having fanned them on Facebook, a recent post immediately caught my attention. The post read, "In honor of World Sight Day, we present the largest photo mosaic in the world! We broke the Guinness Book of World Records!"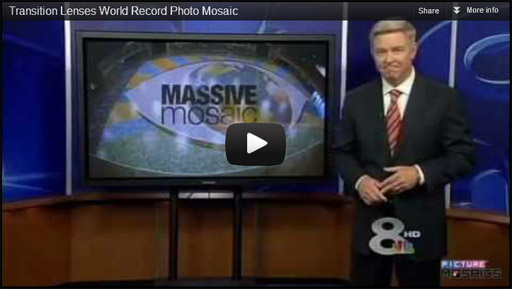 Cheerios Mosaic
Published on

01 October 2012

Written by Melissa
A friend of mine on Facebook shared a link on my wall of the most adorable mosaic, the 2012 First Cheerios Mosaic ! It is an interactive online mosaic reaching out to parents to be a part of a photographic monument. This is an excellent way for families to celebrate together one of their toddler's momentous "firsts"!
Not only is your child a part of this monumental online mosaic, you could even see your baby on a box of Cheerios! In Spring 2013, Cheerios will be unveiling the completed mosaic on limited-edition boxes of Cheerios. That's so cool!!
This is such a cute, playful way to connect and share with other parents your child's First Cheerios.