Welcome to My Mosaic Review!
Published on

19 April 2008

Written by Melissa
After trying to create my own photo mosaic and trying many online services, I decided to put together a review site to help remove some of the confusion in trying to create custom photo mosaics. I could not find any valuable reviews online, then again, I guess this is not the type of product you would expect to find on Amazon.com or any other large online superstore. Hopefully you find this review site helpful in creating your own custom mosaic.
Mona Lisa Masterpiece Mosaic
Published on

26 February 2013

Written by Elizabeth
Once in a while something comes along and simply makes you speechless. If you have 2 minutes to spare, this is worth a quick watch.
275 Millisecond Mosaic
Published on

26 February 2013

Written by Elizabeth
When nothing is on TV and I have exhausted my channel surfing abilities, I sometimes turn to YouTube and web my way deeper and deeper from one video to the next. Keeping on the theme of mosaics, I happened to stumble upon a video from one of my favorite shows: Mythbusters. It is from a few years back, but nevertheless still very cool!
In a nutshell, hosts, Adam Savage and Jamie Hyneman, try to graphically demonstrate the difference between CPU and GPU by creating a paintball mosaic of Mona Lisa (I am still trying figure out the metaphor). The mosaic was painted in a very impressive 275 milliseconds using a one-of-a-kind 1100 barrel paint ball gun.
Be sure to give it a quick watch. And most importantly, be sure not to blink - you'll miss the whole thing :)
Guinness Book of World Records Photo Mosaic!
Published on

29 November 2012

Written by Melissa
Since I wear glasses on a daily basis, I am definitely someone who would be lost in the world without my glasses! I've been a Transitions girl for 5 years now and I would never turn back! Having fanned them on Facebook, a recent post immediately caught my attention. The post read, "In honor of World Sight Day, we present the largest photo mosaic in the world! We broke the Guinness Book of World Records!"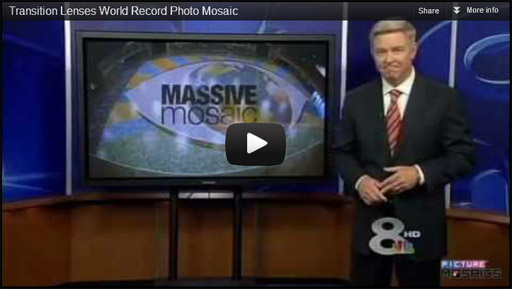 Cheerios Mosaic
Published on

01 October 2012

Written by Melissa
A friend of mine on Facebook shared a link on my wall of the most adorable mosaic, the 2012 First Cheerios Mosaic ! It is an interactive online mosaic reaching out to parents to be a part of a photographic monument. This is an excellent way for families to celebrate together one of their toddler's momentous "firsts"!
Not only is your child a part of this monumental online mosaic, you could even see your baby on a box of Cheerios! In Spring 2013, Cheerios will be unveiling the completed mosaic on limited-edition boxes of Cheerios. That's so cool!!
This is such a cute, playful way to connect and share with other parents your child's First Cheerios.